Home
Yarn Factory Lofts
Comprised of a trio of former mill buildings, Yarn Factory Lofts has been converted into 50 one and two bedroom loft apartments. Woven into the fabric of highly desirable Main Street Manayunk, Yarn Factory Lofts exemplifies the juxtaposition of old and new, providing modern loft living, while retaining the mill's original historic charm.
Floor plans
Let's get down to the knitty-gritty. At Yarn Factory Lofts, you can expect a true loft living experience. With 28 different apartment types to select from ranging in style from one and two bedroom flat or bi-level lofts, we have the perfect space for you to call home.

APARTMENT FEATURES
We can confidently say that ewe will love living here. Each loft is unique, offering thoughtfully restored architectural details, such as original hardwood or polished concrete floors, wood beam ceilings, exposed brick walls, oversized factory windows, and arched doorways. Stainless steel appliances, in-unit washers and dryers, and individually controlled condo-quality air and heat are just a few of the modern conveniences that you can expect at Yarn Factory Lofts.
True loft living in a piece of history
One or two bedroom flat or bi-level loft conversion apartments
Unique layouts
Original, exposed brick walls, wood beams, trusses, and stonework
Preserved architectural details
Floor-to-ceiling factory windows offering abundant natural light
Soaring ceilings
Restored, original hardwood and polished concrete floors
Custom-designed, industrial fixtures and finishes
In-home LG washers and dryers
Stainless steel appliances including gas stoves, built-in microwaves, dishwashers, refrigerators, freezers, and garbage disposals
Modern quartz countertops
Rainfall showerheads
Spacious closets
Electronic, keyless access
Pre-wired for FIOS cable and internet
Juliet balconies, private patios, breakfast bars, walk-in closets, carpeting, den/office space, and original graffiti in select lofts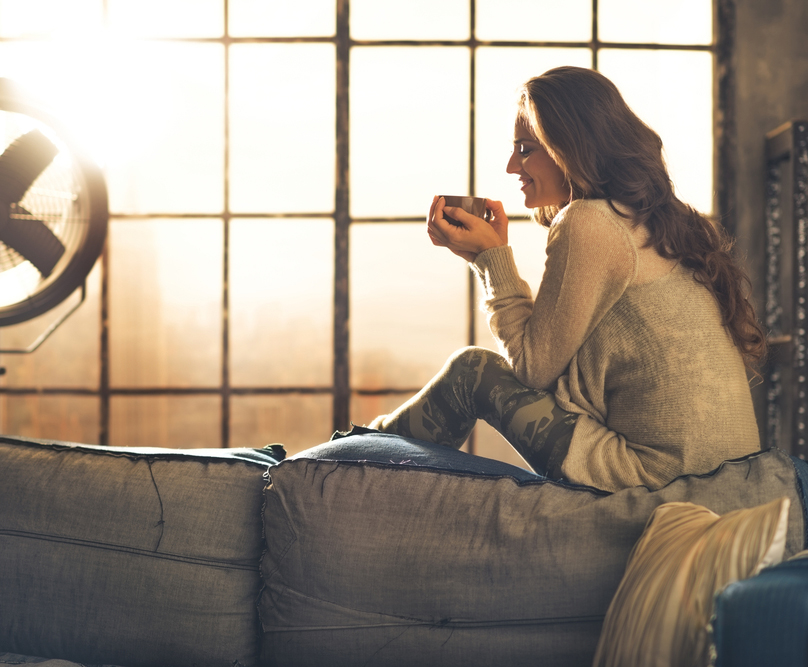 COMMUNITY AMENITIES
Yarn Factory Lofts residents have exclusive access to an array of community amenities. Let your dog off-leash without worry in our private, enclosed dog park. Flex your green thumb in our communal garden plots. Host a barbecue at one of our grilling stations.
For car owners, we offer both indoor and outdoor onsite parking. Don't have a car? No problem. Rent one for a day through our partnership with Enterprise Carshare.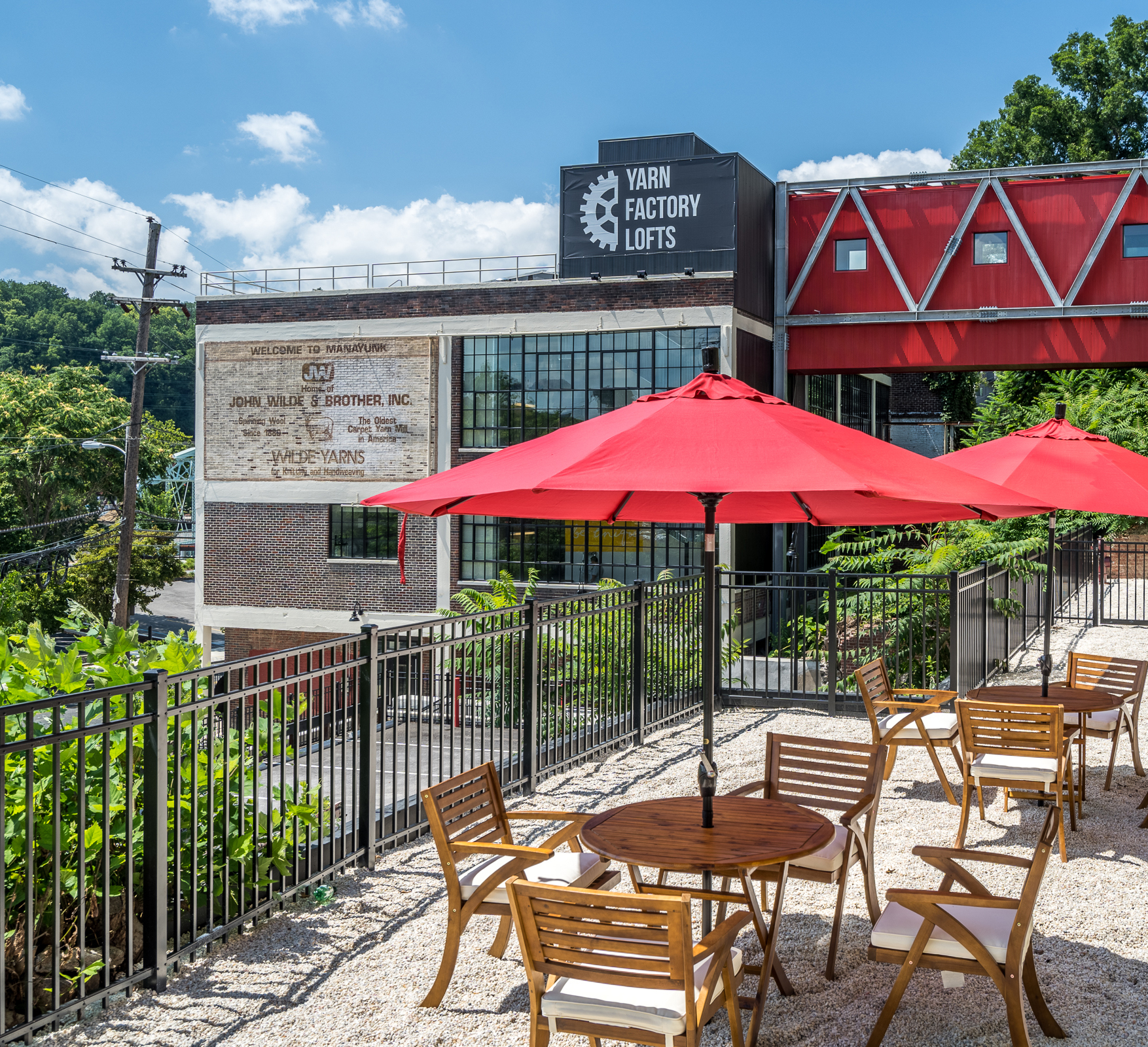 Controlled keyless access
On-site indoor parking, outdoor parking and Enterprise CarShare
Pet-friendly
Private, enclosed, elevated dog park
Outdoor seating, fire pit, BBQ grilling stations, and garden plots exclusive to residents for year-round use
Scenic sky bridge and elevators connecting the three hillside buildings
Custom mural created by Mural Arts Philadelphia, as well as art installations throughout the property crafted by local artists
Charming, on-site leasing center
Online resident portals for easy submission of maintenance requests and rental payments
Emergency maintenance
Smoke-free community
Across the street from the SEPTA Regional Rail Wissahickon Station, as well as SEPTA Bus Routes 9, 27, 35, 61, 62, and 65
Commuter convenience to Center City, Philadelphia and major thoroughfares including 676, I-76, Kelly Drive, West River Drive, I-95, and Roosevelt Boulevard
Easily accessible to a variety of biking, hiking and jogging trails
Picturesque Main Street Manayunk is an ideal destination for food lovers, culture seekers and shoppers
Location
An ideal location for both work and play, Yarn Factory Lofts is a unique space where you can truly unwind.
Located just a few blocks from highly desirable Main Street Manayunk, you can stroll along the banks of the Schyulkill River, work out at your choice of gyms in the area, explore trendy boutiques and the vibrant nightlife scene, enjoy craft beer from local breweries, relax in one of the neighborhood's cozy cafés, and discover an eclectic mix of restaurants. At the end of the night, return home to your serene apartment away from the hustle and bustle to rest up for an early morning hike. Yarn Factory Lofts is well-situated for outdoor lovers, just a short walk or bike ride away from the Schyulkill River Trail and an entrance to Wissahickon Valley Park.
Transportation to downtown Philadelphia is also easily accessible via train or bus lines. The Wissahickon SEPTA station is across the street where you can take a quick trip into Center City, Philadelphia. Mere minutes from your front door is access to major roadways including I-76, Roosevelt Boulevard, Kelly Drive, and City Line Avenue, making Yarn Factory Lofts optimal for commuters.
History
Dating back to 1884, what we know as Yarn Factory Lofts today was formerly home to the Wilde Yarns Mill, a famous, industrial woolen carpet yarn mill owned and named after brothers John and Thomas Wilde. The factory remained fully operational until 2012.

The brothers Wilde began their entry into the textile industry only two years after immigrating from England. Construction on the first building began in 1884, while the second and third buildings following in 1932 and 1984. Both additions reflect the mill's success through the acquisition of machinery in succeeding generations.

Bales of raw wool would arrive at the factory from all over the world. The raw wool was then inventoried and sent to the original 1884 mill building to be blended and baled in preparation for the carding process.

From there, the wool began its journey through the sky bridge into the newer mill building on Main Street, where it was then carded, spun and exported throughout the United States, including the Navajo tribe of the Southwest, where the yarn was incorporated into their traditional woven textiles and blankets.

The original sky bridge where the wool traveled from one part of the mill to the other still exists today as part of Yarn Factory Lofts, providing residents with a unique, scenic way of traveling from one building to another.

Woven into the hillside of bustling Main Street, just a few feet away from the Wissahickon Train Station, Yarn Factory Lofts proudly retains the historical and architectural elements from its days as a cornerstone of Philadelphia's textile industry, along with its legacy as the country's oldest, family-owned yarn mill.
ART
Yarn Factory Lofts was envisioned with strong design in mind. Local artists were commissioned to create artwork throughout the property that pays homage to the rich, industrial history of the original yarn mill. From ironwork hardware details in individual apartments to a large-scale mural, no detail was overlooked. Residents can appreciate the beauty of the buildings that merge old with new and luxury with the industrial grit of Philadelphia.
Mural Arts Philadelphia
Mural Arts Philadelphia is the country's largest public art program, garnering both national and international recognition. For over 30 years, their mission has been to create art that transforms public spaces by empower artists and celebrate communities with murals that represent Philadelphia's culturally and historically distinct neighborhoods. The magnificent mural created specifically for Yarn Factory Lofts by Mural Arts Philadelphia and artist Phillip Adams, illustrates the rich history of the site as a significant part of Philadelphia's industrial past through a detailed visual narrative. The 6-bay, 18' panels use imagery that showcases some of the original machinery used in the factory to separate wool. The prominent ball of red yarn depicts the factory's production of wool spun into beautiful yarn. The culminating image of a vibrant Navajo rug represents the journey of the factory's products to the American Southwest, providing the Navajo tribe with the only yarn suitable in both quality and texture to create their treasured rugs and blankets.
A special thank you to the city of Philadelphia for its contribution to this mural.

Phillip Adams
Phillip Adams is a Philadelphia-based artist whose work has been included in exhibits across the United States. His beautiful murals have gained praise both nationally and internationally, and can been found not only at Yarn Factory Lofts in Manayunk, but also in specially selected locations in Philadelphia, Tennessee, Cincinnati, and Montreal.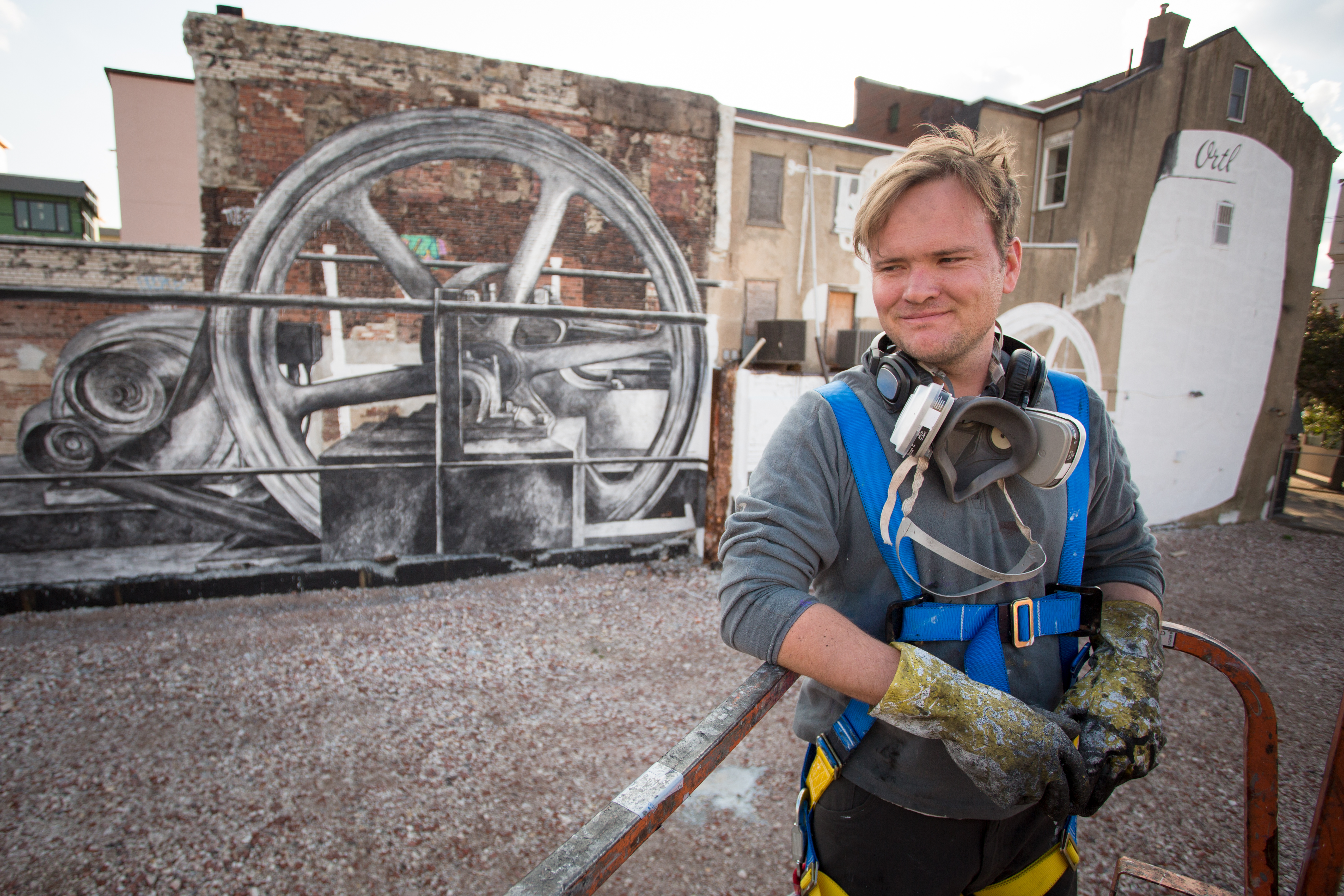 Photo credit: Steve Weinik
Jessie Hemmons
Acclaimed knitter, crocheter, street artist, and yarn-bomer, Jessie's colorful crafts and art installations can be found throughout the United States. Part of Jessie's mission is to leave a positive impact on a community and to bring art to everyone, not just to those exclusive to the art world.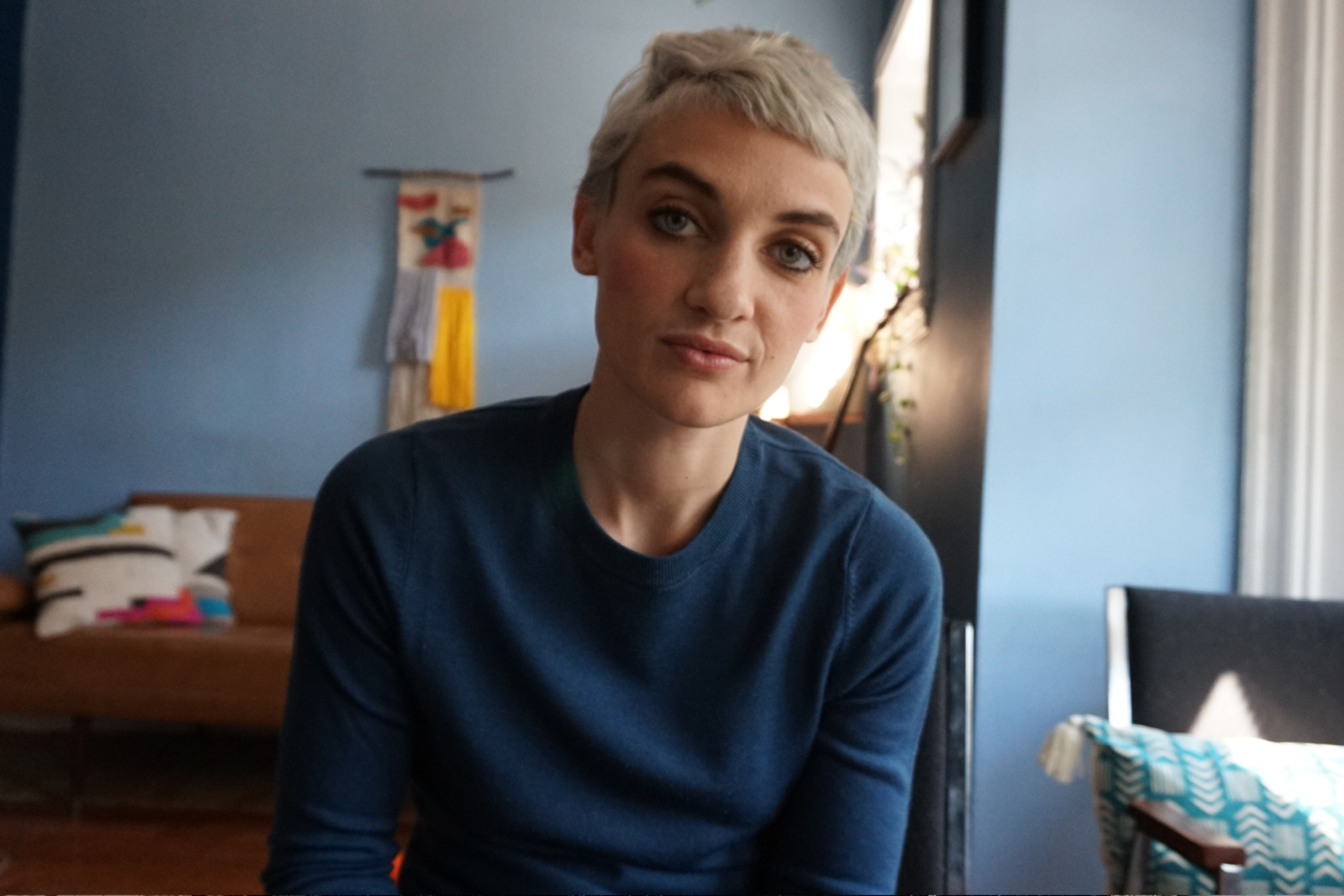 John Walker
Historic photographs provided by John Walker Photography and AbandondedNY.com.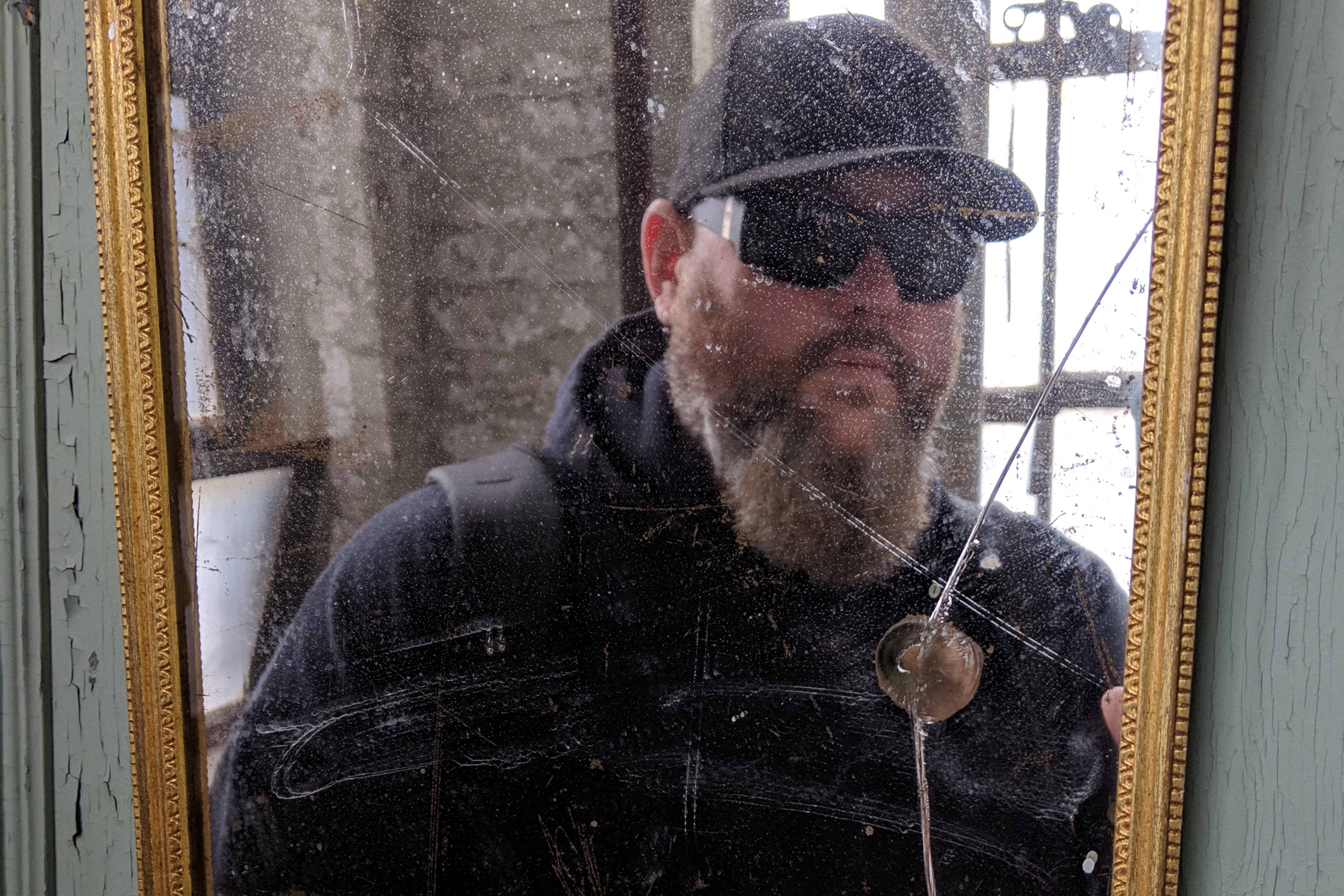 Greg Donovan
Based in Conshocken, PA, Greg Donovan from West Ninth Vintage handcrafted the distinctive home décor accessories, including towel bars, hooks and toilet paper holders for Yarn Factory Lofts. Created from carefully selected industrial, factory pipes, these accessories are as functional as they are aesthetically-pleasing.

Grafitti Artists
We would like to recognize the graffiti artists who remain anonymous but whose work has been preserved throughout the building.
Leasing
"You can't buy happiness... but you can rent it!"
At Red Door Residential, we draw on many years of property management experience to provide residents with the very best living experience.
Why a Red Door?
The origin of our name says a lot about our company's philosophy. The color red calls attention to the commitment our property management team makes to ensure resident satisfaction. All of our properties have red doors is to symbolize openness, acceptance and to welcome our residents. The result: outstanding, exceptional service.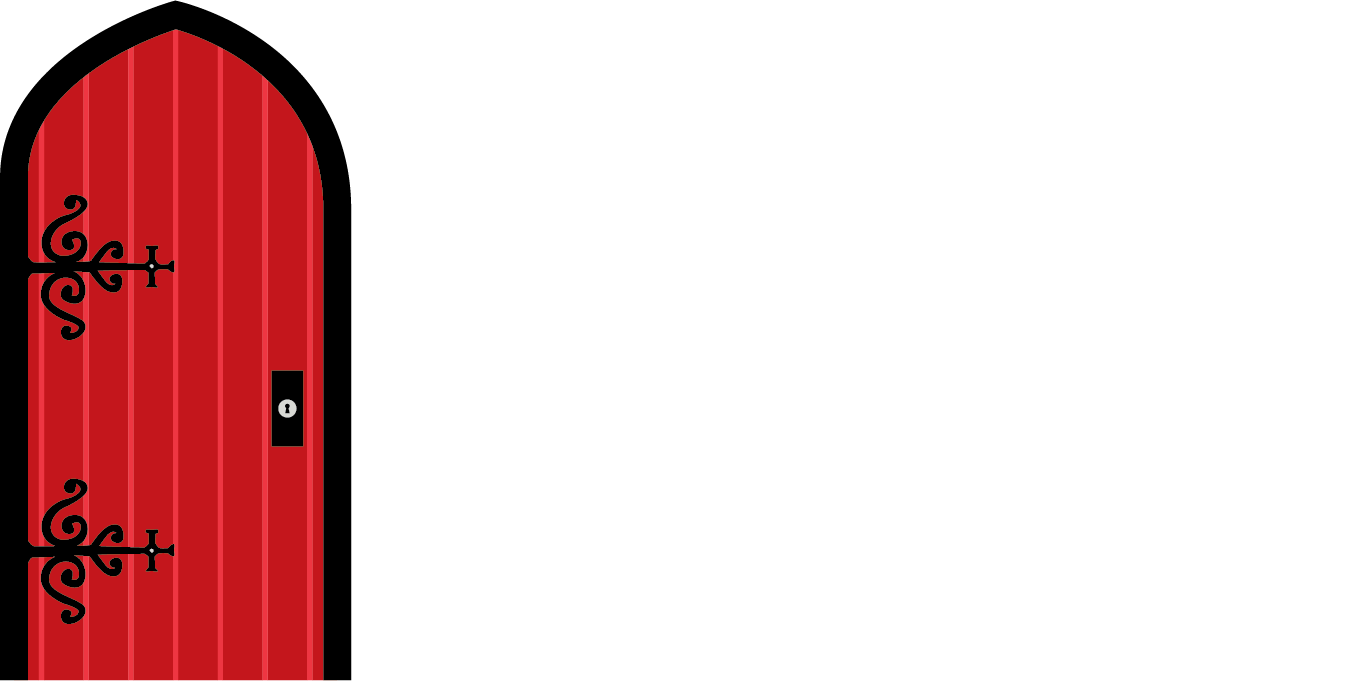 Management
With Welcome Home Property Management, our name says it all. We want our properties to feel like a community, which is why we have a dedicated Resident Relations Ambassador who will greet you with a smile and welcome you into your new home. Our experienced, highly trained maintenance team is available 24/7 to provide you with the very best service. Even better? We make maintenance request submissions and rent payment a breeze with our convenient online resident portal.